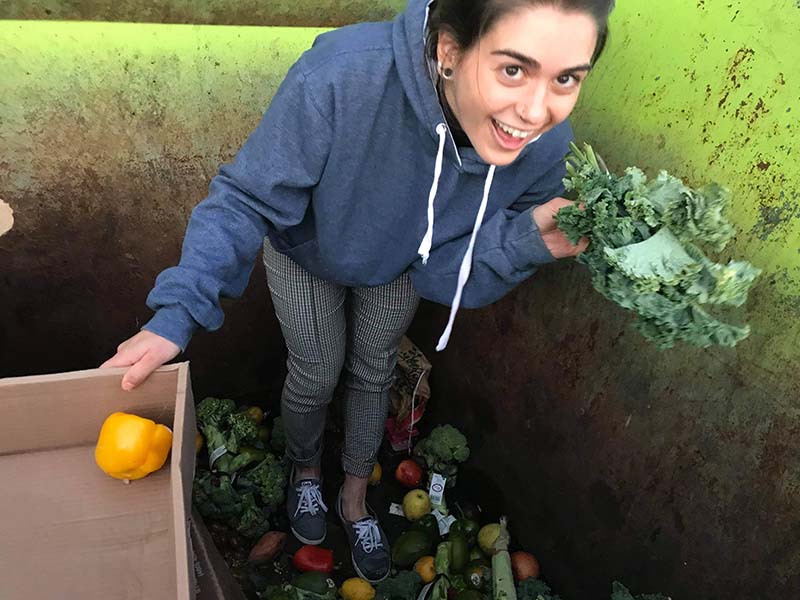 Please tell the Record's readers a little about your background, Anne-Julie. Where did you spend your childhood? Do you feel this has shaped your attitude towards Nature and the climate crisis?
I grew up in a small town in Bellechasse, Qubec. Where I lived, Nature surrounded us mountains, forests, rivers, and a beautiful lake. Of course, seeing this scenery every day shaped my view towards Nature. Before I was even aware of the climate crisis, I felt the need to protect my environment. Nature was my haven of peace and I felt lucky the forest was my playground. I cannot count how many hours my brothers, my friends and I spent in the woods, playing hide and seek or building tree houses. Sometimes I saw deforested areas in my town, and something didn't feel right inside me. As a little child, I could not tell what this feeling was. I only wanted the trees back.
It is paradoxical that I felt so close to Nature as a child, and at the same time I thought big farms were natural. My grandparents had a dairy and hog farm. I visited them often, so I thought animals were meant to be 'caged' and give us food. Even in small towns, it is normalized to possess and commodify other living beings. In a sense, I am glad I could witness the captivity of these beings, because these memories make me realize how society denaturalizes animals and living beings.
Does your family support you in your deep interest in and actions to protect Nature?
In the first place, I would have said "yes", because my parents support me in everything I undertake. However, the only way I could feel their support would be if they took actions themselves to protect Nature. I have often tried to engage in conversations with them about the environmental crisis and the things we can do as individuals. As soon as they realize their behaviour might be harmful to our planet, they disengage from the conversation. Yet I do not blame them. I understand their mentality comes from a toxic society and years of capitalism indoctrination.
Why did you decide to take the Bishop's University 'Ecological Crisis and the Struggle for Environmental Justice' class? Do you feel an affinity with other students regarding climate justice?
I want my years at university to be meaningful and that I can have a positive impact on society. I am studying to broaden my mind, not to narrow it. As a young person, I am extremely concerned about the ecological crisis. I thought this class would be a great step to act for environmental justice. I feel some people took this class because it fitted their curriculum, but on the whole we all have an interest in protecting Nature. It is empowering to connect with other people of my generation and understand how they feel about this crisis.
Have you attended any climate protests?
Yes, I took part in the 2019 September climate strikes, which happened everywhere in the world on the same day. Recently, I attended two other protests in Sherbrooke.
Tell us about 'dumpster diving' and why you participate.
In short, 'dumpster diving' means to dive into supermarkets' or commercial containers and retrieve waste. So far my 'harvest' has been good only in supermarkets. These companies waste many fruits and vegetables that are starting to get a little bad, or products whose use-by date is near. I remember salvaging a ton of products with merely damaged packaging. I know dumpster diving is illegal, but it is a way to protest against food waste and overconsumption. It is shocking to see how much companies throw away good products, and frustrating that many of them lock their containers so we can't even see how much they waste.
Why did you choose to be a vegan? Is this way of living easy for you?
I decided to switch to a plant-based diet in 2019, after learning that about half of greenhouse gas emissions are produced by animal agriculture. Emissions do not only come from fossil fuels, but also from what we eat and buy. Moreover, it broke my heart to know that so many forests were destroyed for fields and pasture. Shortly afterwards, I went completely vegan. Of course I encountered some difficulties when adapting to veganism, but my habits settled quickly. It is now a piece of cake to eat well! I want to protect the animals, because they are part of Nature and I disapprove of any kind of animal mistreatment and exploitation. How can I aim to protect the planet if I think I am superior to other living beings? I simply refuse to be part of this insensitive system.
The UN COP26 climate summit is taking place now in Glasgow, Scotland. It's billed as a 'make or break' conference on curbing fossil fuel emissions and bringing about climate/biodiversity justice. What do you feel must happen at COP26 in order for the world to move forward on these critical issues? Is Canada doing its fair share?
I am not a politics connoisseur, but from my little knowledge about COP26, this summit might be the last chance to make sure future generations will still be able to live on Earth. The climate crisis will affect the poorer countries first, so the rich countries should commit to supporting them financially. Rich countries are the biggest polluters. They need to change the source of their energy. Two-thirds of the world's energy still comes from fossil fuels, and this is unacceptable. We need to make the transition to zero emission vehicles, but that is pointless if the electricity comes from fossil fuels. All countries should have attended COP26, but the presidents of Russia, China, Brazil and Turkey decided not to go in person (or not to participate at all). These countries are some of the biggest carbon emitters. Presidents should take their heads out of the sand. The science is clear: climate change is real, and human activity is the main cause.
Canada is absolutely not doing its fair share. We had an election in the fall, and during the campaign the climate emergency was at the bottom of the politicians' priorities. Our prime minister, Justin Trudeau, approves the pipeline expansion, whereas actions need to be taken now. I am anxious and angry because the catastrophes that are coming will radically impact our lives and there are no concrete governmental strategies to overcome the climate emergency.
Many young people do not wish to have children because they feel that the world's future is uncertain. What's your opinion?
This is a question that has been present in my life since my teenagerhood. I respect anyone's decision to have children or not. For my part, I decided not to have children for the same reason you stated in your question. My hopes regarding the future are very low, and no one will be safe if the planet is burning.